Shop Clever Container
Tidied Up wants to bring you the best tidies around and I've found them all in one place at The Clever Container Company. Find all the organizational and storage solutions in one place. It doesn't get any neater than this.
Catalog & Monthly Specials
LINKS:
New!!! Clever Container Catalog Fall 2012
Hostess Special – Tote-ally Cute Jute
December Customer Special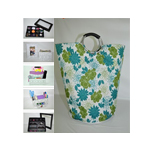 Qualify to purchase our exclusive Handle It for only $13 when you purchase $50 in regularly priced Clever Container merchandise. Who wouldn't love this gift to help "handle" the holidays?! It will be a perfect bag to stow all your gifts this holiday season!
Limit one per customer.
Reg. $24.95
January 2013 Customer Special
JANUARY SPECIAL 2013
DON'T START YOUR NEW YEAR
OFF IN A PANIC…
Tame your Mail the instant it reaches your counter
with our Exclusive
PANIC NO MORE filing system.
Qualify to purchase the Panic No More for FREE
when you purchase $50 in regularly
priced Clever Container products.
Who doesn't want to take control of their snail mail?
Limit one per customer! Regularly $23
Placing an Order
If you've found a clever product you are interested in ordering, contact me via the contact form below to set up a Clever Container profile. Include your Name, Address, Phone and Email. A username and password will be emailed to you with a link to our recent catalog to shop online as a my customer.